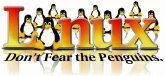 The Future of Linux
14 July 1998
---
Door Prizes
Due to the problems with registering, the door prizes were handed out on the basis of birthdays instead of tickets. They included quite a number of copies of Red Hat, not only for Intel but also for Alpha and SPARC, some red hats, possibly some t-shirts and at least one boxed, stainless steel mug with an Intel logo on it. In addition, there were free VA Research t-shirts and copies of the July 1998 issue of Linux Journal for (almost) everyone, and Intel was busy handing out Bunny People key chains in the demo area.
---
Demos
VA Research had a number of lust-inducing machines on display, all running Linux and a host of interesting window managers and applications (including Quake II, the Persistance of Vision ray-tracer (POV-Ray), the GIMP, a Linux kernel compile, SMP-aware xosview, some image viewers, possibly Rasterman's Enlightenment GUI, etc.). All of the machines were running 400 MHz Pentium IIs; the Xeons each had 1 MB of onboard L2 cache (per chip, that is) running at full (400 MHz) system speed.
---
Click here to return to the main Future of Linux page.

---
Last modified 12 August 2000 by newt@pobox.com , you betcha.
Copyright © 1998-2000 Greg Roelofs.